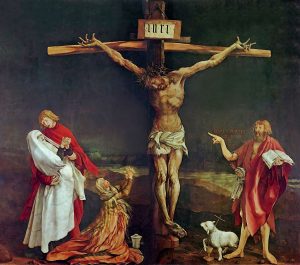 This is a difficult day. That we call this Friday "Good" is somewhat ludicrous, until we contemplate what we believe it accomplished…until we know the end of the story.
But the first disciples did not know the end of the story. At this point, all they know is terror. Could we bear to stand on Golgotha and watch him suffer and die? Some of the women did (the men were in too much danger). I don't know if I could bear it. But I can bear reading the story again, and contemplating what he is said to have spoken from the cross in the gospels.
Hear again the "Seven Last Words". Which is speaking to you today in these strange and, for many, frightening times?
Luke 23:32-38 Two others also, who were criminals, were led away to be put to death with him. When they came to the place that is called The Skull, they crucified Jesus there with the criminals, one on his right and one on his left. [[Then Jesus said, 'Father, forgive them; for they do not know what they are doing.']] And they cast lots to divide his clothing. And the people stood by, watching; but the leaders scoffed at him, saying, 'He saved others; let him save himself if he is the Messiah of God, his chosen one!' The soldiers also mocked him, coming up and offering him sour wine, and saying, 'If you are the King of the Jews, save yourself!' There was also an inscription over him, 'This is the King of the Jews.'
Is there someone you are struggling to forgive? Someone you judge harshly? Is it time to look again, with the eyes of love, to seek to understand, to release yourself from the offence? Forgiveness is a journey; it takes time. Where are you on the journey?
Luke 23: 39-43 One of the criminals who were hanged there kept deriding him and saying, 'Are you not the Messiah? Save yourself and us!' But the other rebuked him, saying, 'Do you not fear God, since you are under the same sentence of condemnation? And we indeed have been condemned justly, for we are getting what we deserve for our deeds, but this man has done nothing wrong.' Then he said, 'Jesus, remember me when you come into your kingdom.' He replied, 'Truly I tell you, today you will be with me in Paradise.'
Does it offend you that a criminal was forgiven on the spot, with the promise of paradise? Why? Are you entirely deserving of all the forgiveness and love that you have received?
John 19:25b-27 Meanwhile, standing near the cross of Jesus were his mother, and his mother's sister, Mary the wife of Clopas, and Mary Magdalene. When Jesus saw his mother and the disciple whom he loved standing beside her, he said to his mother, 'Woman, here is your son.' Then he said to the disciple, 'Here is your mother.' And from that hour the disciple took her into his home.
Who has God given you to love?
Mark 15:33-38 When it was noon, darkness came over the whole land until three in the afternoon. At three o'clock Jesus cried out with a loud voice, 'Eloi, Eloi, lema sabachthani?' which means, 'My God, my God, why have you forsaken me?'
Have you ever felt forsaken? Does it surprise you that Jesus did? What does it show us about the humanity of Jesus?
John 19:28-30a After this, when Jesus knew that all was now finished, he said (in order to fulfil the scripture), 'I am thirsty.' A jar full of sour wine was standing there. So they put a sponge full of the wine on a branch of hyssop and held it to his mouth. When Jesus had received the wine, he said, 'It is finished.'
For what do you thirst?
Luke 23:44-49 It was now about noon, and darkness came over the whole land until three in the afternoon, while the sun's light failed; and the curtain of the temple was torn in two. Then Jesus, crying with a loud voice, said, 'Father, into your hands I commend my spirit.' Having said this, he breathed his last. When the centurion saw what had taken place, he praised God and said, 'Certainly this man was innocent.' And when all the crowds who had gathered there for this spectacle saw what had taken place, they returned home, beating their breasts.
At the end, he is said to have commended himself to God, even though feeling abandoned by God. We believe; help our unbelief. May we breathe our last surrendering to the Great Love that will take us Home.