St. John of Capistrano
St. John was born in 1386 at Capistrano in the Italian Province of the Abruzzi. His father was a German knight and died when he was still young. St. John became a lawyer and attained the position of governor of Perugia. When war broke out between Perugia and Malatesta in 1416, St. John tried to broker a peace. Unfortunately, his opponents ignored the truce and St. John became a prisoner of war. On the death of his wife he entered the order of Friars Minor, was ordained and began to lead a very penitential life.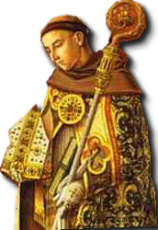 John became a disciple of Saint Bernadine of Siena and a noted preacher while still a deacon, beginning his work in 1420. The world at the time was in need of strong men to work for salvation of souls. Thirty percent of the population was killed by the Black Plague, the Church was split in schism and there were several men claiming to be pope. As an Itinerant priest throughout Italy, Germany, Bohemia, Austria, Hungary, Poland, and Russia, St. John preached to tens of thousands and established communities of Franciscan renewal. He reportedly healed the sick by making the Sign of the Cross over them. He also wrote extensively, mainly against the heresies of the day.
He was successful in reconciling heretics. After the fall of Constantinople, he preached a crusade against the Muslim Turks. At age 70 he was commissioned by Pope Callistus II to lead it, and marched off at the head of 70,000 Christian soldiers. He won the great battle of Belgrade in the summer of 1456. He died in the field a few months later, but his army delivered Europe from the Moslems.