St. John Vianney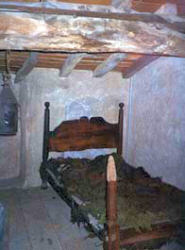 During the French Revolution a small band of Ursuline nuns was imprisoned in the Bastille. To cheer her disconsolate companions, one of the group passed wheaten discs of bread, cut from the loaf of the daily rations, to memorialize the happy days when they were free and could receive Our Lord in Holy Communion. At that time all religious schools and churches were closed, and those who harbored priests were imprisoned.
At the Vianney farmhouse near Dardilly, France, fugitive priests were offered a refuge. Here their son was prepared in his tenth year for the reception of Holy Communion by a hunted priest.
While tending his father's sheep, John Vianney fashioned a small statue of Our Lady out of clay. He hid it in the hollow of an old tree with this petition: "Dear Lady Mary, I love you very much; you must bring Jesus back to His tabernacles very soon!"
On a visit to his aunt at Ecully, John listened to her praises of Father Balley, the parish priest, and he sought the Father's advice regarding his vocation to the priesthood. The pastor appraised the overgrown, awkward youth of faltering speech and devoid of general education. Though John was unable to answer the questions pertaining to earthly science which Father asked him, yet, when the priest put to him the questions of the catechism, his face became luminous with lively interest. He answered every question correctly, and in a manner beyond his years. The amazed pastor took this evidence as a sign from heaven, prophesying, "You will become a priest!"
The ensuing years brought many trials to John. He was conscripted; his mother died; he failed often in his studies. Ordained as a Mass priest, August 12, 1815, he remarked to Our Lady, Queen of the Clergy: "Here is your priest, O Blessed Mother! Stay close to me. Help me to be a good priest!"
As a curate and as a pastor, St. John Vianney's daily instruction on the catechism found an inspired audience, among whom were noted orators such as Père Lacordaire, O.P., the famed preacher of Notre Dame. The saintly pastor performed many miracles, but the greatest was his own manner of Eucharistic living. It was his Lord, living in Father Vianney, who made him "spend and be spent" in ceaseless service for both sinner and saint in the sacred tribunal of penance.
— Rev. Vincent F. Kienberger, O.P.
Mass Readings August 4th , 2020