St. Alphonsus Liguori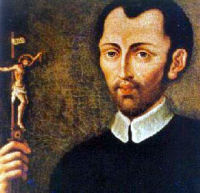 Alphonsus Liguori, born in 1696, was the son of an ancient Neapolitan family. His father was an officer in the Royal Navy. At the age of sixteen, Alphonsus received his doctorate in both canon and civil law and for nearly ten years practiced at the bar. When he found that one of the legal cases he was defending was not based on justice but on political intrigue, he gave up the practice of law and dedicated his life to God.
Ordained to the priesthood in 1726, St. Alphonsus Liguori joined a group of secular priests dedicated to missionary activities. He involved himself in many kinds of pastoral activities, giving missions and organizing workers, and had a part in the founding of an order of contemplative nuns.
In 1732, he founded the Redemptorists, a congregation of priests and brothers, to work especially among the country people of Italy who often lacked the opportunity for missions, religious instruction, and spiritual retreats. Strangely, his first companions deserted him; but Alphonsus stood firm, and soon vocations multiplied and the congregation grew.
The Redemptorists were approved by Pope Benedict XIV in 1749, and Alphonsus was elected superior general. In 1762, he was appointed bishop of Sant' Agata dei God and as bishop he corrected abuses, restored churches, reformed seminaries, and promoted missions throughout his diocese. During the famine of 1763-64, his charity and generosity were boundless, and he also carried on a huge campaign of religious writing.
In 1768, he was stricken with a painful illness and resigned his bishopric. During the last years of his life, problems in his congregation caused him much sorrow and when he died on August 1, 1787, at Pagani, near Salerno, the Redemptorists were a divided society. He was beatified in 1816, canonized in 1839, and declared a Doctor of the Church in 1871.
Excerpted from the The One Year Book of Saints by Rev. Clifford Stevens
Patron: Confessors; final perseverance; theologians; vocations.
Things to Do:
---
St. Peter's Chains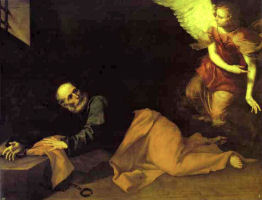 There in some controversy as to whether St. Peter's chains were brought from Jerusalem by Eudoxia in 439, or by some travelers sent to the East in search of them by the martyr St. Balbina and her father, St. Quirinus, in 116. Gerbet defends the latter opinion and says St. Balbina gave them to Theodora, sister of St. Hermes, martyr, Prefect of Rome, from whom they passed into the hands of Pope St. Alexander I (108-117). St. Bede the Venerable, writing in the seventh century, speaks of the chains in connection with St. Balbina and St. Alexander.
Such was the reverence paid to these chains in the fifth and sixth centuries, that filings of them were considered precious relics suitable for kings and patriarchs, these filings being usually enclosed in a gold cross or key. Such a relic was sent by Pope St. Hormisdas to the Emperor Justinian; by St. Gregory to King Childebert, to Theoctista, sister of the Emperor Mauritius, to Anastasius, Patriarch of Antioch, and others; by Pope Vitalian to Oswy of Northumbria; by St. Leo III to Charlemagne; by St. Gregory VII to Alphonsus, King of Castile. These crosses and keys were often worn around the neck as a preservative against dangers, spiritual and temporal.
St. John Chrysostom's words on St. Paul's chains apply equally to St. Peter's: "No glittering diadem so adorns the head as a chain borne for Christ. Were the choice offered me either of heaven or of this chain (suffered for Christ), I would take the chain. If I might have stood with the angels above, near the throne of God, or have been bound with Paul, I should have preferred the dungeon. Had you rather have been the angel loosing Peter, or Peter in chains? I would rather have been Peter. This gift of chains is something greater than the power to stop the sun, to move the world, or to command the devils" (Homil. 8, in Ephes iii. I.).
Excerpted from Pilgrim Walks in Rome by P.J. Chandlery S.J.
This day still is known in English-speaking countries as Lammas Day, or loaf-mass day. This was the festival of the first wheat harvest of the year, on which day it was customary to bring to church a loaf made from the new crop.
In many parts of England, tenants were bound to present freshly harvested wheat to their landlords on or before the first day of August. In the Anglo-Saxon Chronicle, where it is referred to regularly, it is called "the feast of first fruits." The blessing of new fruits was performed annually in both the Eastern and Western Churches on the first, or alternately the sixth (Transfiguration), of August. The Sacramentary of Pope Gregory I (d. 604) specifies the sixth.
Excerpted from The Stations of the Sun, Ronald Hutton, Oxford 1996.
Mass Readings July 31, 2020