St. Bonaventure
In Bonaventure we meet a unique personality. He was unsurpassed in sanctity, wisdom, eloquence, and gifted with a remarkable skill of accomplishing things, a heart full of love, a winning disposition, benevolent, affable, pious, charitable, rich in virtue, beloved by God and man. . . . The Lord endowed him with such a charming disposition that everyone who saw him was immediately attracted to him." In these words the historian of the Council of Lyons concludes his account on St. Bonaventure.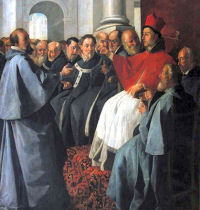 At an early age he was a celebrated teacher and a powerful preacher. At thirty-six he was called to the highest post among the Franciscans, the Order which honors him as a second founder. He was an important figure at the Council of Lyons. His virtue and wisdom, his versatility and mildness were major factors in attaining the happy result that the Greeks so easily returned to the unity of the Church.
Bonaventure was a subtle scholastic and a profound mystic. Because of the latter he is known as the "Seraphic Teacher." In philosophy he was the principal leader of the Platonic-Augustinian school of Franciscan thought; as such he stood opposed to the Aristotelianism that was making its way into the schools of the time (ably represented by Thomas Aquinas). Bonaventure's Life of St. Francis was a favorite book of the Middle Ages. When St. Thomas was told about Bonaventure's work, he said: "Let us allow one saint to labor for another." His contemporaries are said to have believed that no one was "more handsome, more holy, or more learned" than he.
Excerpted from The Church's Year of Grace, Pius Parsch