Saint Elizabeth of Portugal
Saint Elizabeth of Portugal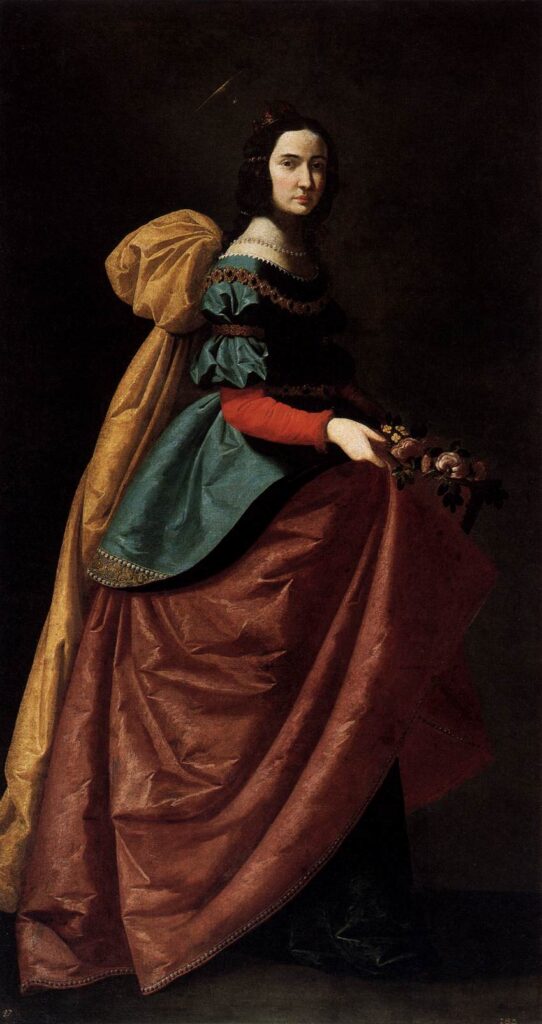 Beautifully placed in the center of a graceful arch, behind the high altar in the Franciscan convent of Saint Clare in Coimbra, Portugal, is an impressive silver and glass sarcophagus. Circular windows cut into the upper portion of the finely wrought box allow the pilgrim to peer down into its contents. You see rumpled printed cloth. You struggle to discern what else you are looking at. But then…you see…the form of a body, covered by a shroud. It is her. You are looking at a sleeping queen, Saint Elizabeth of Portugal. Only a hand protrudes from under the cloth. It is a right hand. It is visible. It is white. It has refused decay. It is incorrupt. The rest of her body? Only God knows, and maybe the local bishop.
Today's saint was also known as Elizabeth of Aragon. She was born into a royal Spanish family with a saint in its bloodline. Saint Elizabeth of Hungary was her great aunt and namesake. In a pious age, the piety of today's Saint Elizabeth stood out. She loved the Lord and all that it meant to be Catholic. She was wed to the King of Portugal at a tender age, moved to his land, and had a family with him. The holy child Elizabeth became the holy adult Elizabeth. She involved herself in matters of war, state, and politics. But she was more concerned with her own soul, the poor, and the sick. 
Elizabeth had the luxury of leisure due to her wealth and noble status. She could dedicate time to Mass, to prayer, and to her spiritual exercises. Her resources of time and money also allowed her to assist the poor, which she did generously, even to the annoyance of her husband, the King. It is easy to say that money doesn't matter when you have money. Only people with money, in fact, say that money is not the only thing. Money did not matter to Elizabeth, precisely because she did not lack it. She simply gave it away. And she fortified her financial generosity with her personal example of prayer, fasting, poverty, and holiness, edifying her people. She was not an advocate of social justice, but justice. She did not promote charitable giving, but living charity itself. 
After her husband died and her children were grown, she entered the convent of the Poor Clares which she herself had founded in Coimbra. She took vows as a Third Order Franciscan, abandoned her royal status, and lived in obscurity with the other sisters. Coimbra had a long attachment to the Franciscans. It is the city where Fernando of Lisbon, an Augustinian, decided to become Anthony, a Franciscan, the future saint whose shrine is in Padua. Saint Elizabeth's choice to become a lay Franciscan shows just how far and wide the influence of Saint Francis of Assisi was felt, even among the upper classes. The Queen of Portugal gives away her wealth, cares for the poor and the sick, is devoted to the Sacraments, actively promotes peace in her domain and in her family, establishes a female Franciscan convent, and herself becomes a Franciscan, and all within one hundred years of Saint Francis' death. After Elizabeth had given away all that she had, she gave away herself, and then there was nothing left to give. She was a model Catholic Queen. 
Mass Readings: