Fr. Mario's Divine Mercy
Message to Parishioners
April 21, 2020
We have just celebrated the 2nd Sunday of Easter, Divine Mercy Sunday. The Church has placed a special emphasis on Mercy in the 21st century. Pope Francis announced a Holy Year of Mercy (Dec. 2015- Nov. 2016) to "offer more evident signs of God's presence and closeness" and wrote "The Church of Mercy: A Vision for the Church." Benedict XVI and John Paul II shared this vision by instituting the Feast of Mercy, canonizing the 'Apostle of Mercy,' Sister Mary Faustina Kowalska and writing the encyclicals "Rich in Mercy" and "God is Love". Truly, the Church is calling upon the faithful to reflect upon this holy concept.
Some practical options to integrate a devotion to Divine Mercy include prayer of the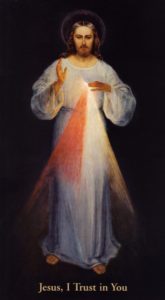 Divine Mercy Chaplet, novena, or hour of mercy. Also, the faithful could act on the corporal and spiritual works of mercy or integrate the "ABC's of mercy": Ask for mercy, Be Merciful, and Completely trust in Jesus.
In doing so, we manifest our Lord's grace to our brothers and sisters who, like Thomas, may need to see favour to believe it. How do we favour someone else, in other words, how do we do mercy to others so that they may receive God's grace? We do it when we show mercy to another human being.
Due to COVID-19, many families are all together in one house all the time: dad, mom and the children. This can be a trying time for families with children. There is not enough space, screen devices, or activities to satisfy everyone in the family. Tempers flare, boredom sets in, moms are exhausted, dads are frustrated because working from home is a challenge due to the noise, distractions and interruptions of family life. This is the time to show mercy to one another in families. Here is where we need empathy, understanding and patience with each other. If you are annoyed, angry, impatient with a family member: breathe, count to ten and say what can I do to alleviate the situation. Now that is showing "mercy". By showing mercy to one another, you will be much happier and content and the other will receive God's grace because you have given favour to believe it.
Sincerely from your Pastor,
Father Mario Basque
Holy Name Parish
Calgary, Alberta